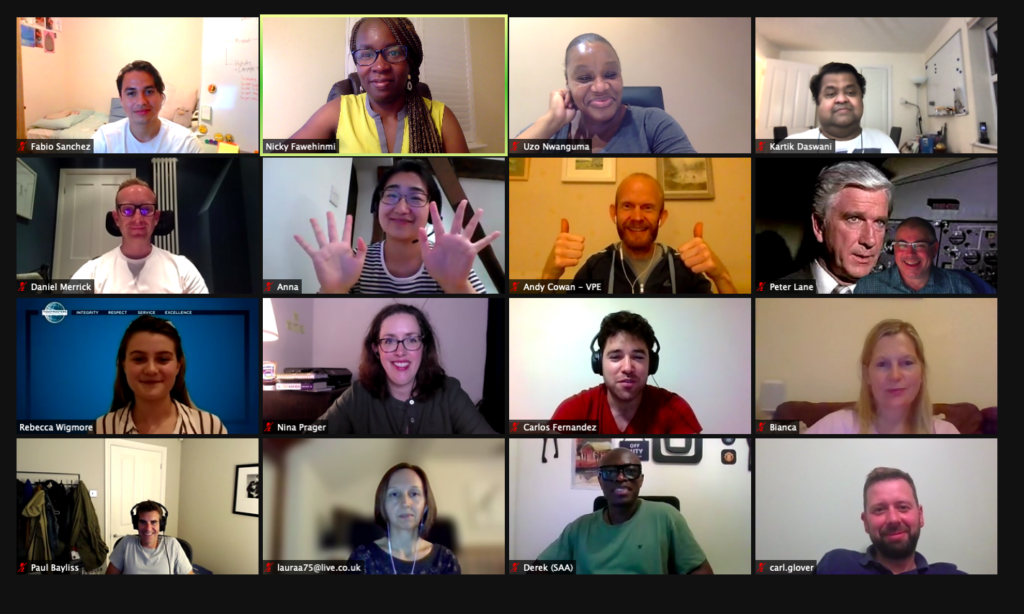 And yet another sterling performance from our 'Showmaster' Peter Lane who was flawless as the compere leading the evening brilliantly.  Starting us off very warmly and emphasising how we were 'all most' welcome to the evenings' proceeding. Peter also gave us historical facts about our Toastmasters club informing us that this meeting was our club's 277th meeting; Look how far we've come!
Stuart Lawson kicked us off with the quote of the day from Richard Steele playwright and founder of Tatler:
"There are so few who can grow old with  good grace."
"Reading is to the mind what exercise is to the body"
 …and we can all agree that Stuart is definitely gracefully exercising his mind!
The joy of good company
We had 3 lovely guests join us for the evening Uzo Nwanguma, Daniel Merrick and Carlos Fernandez.
"Grammar is the logic of speech, even as logic is the grammar of reason" – Richard C Trench

Laura Hiles our Grammarian, gave us the word of the day 'Compelling' which was used many times during the course of the meeting. It slotted nicely into speeches and Table topics. Laura also pointed out good use of grammar through out the meeting

Hear! Hear! Hear! 
Speech #1
Kartik Daswani gave another remarkable speech entitled 'Karma Chameleon" evaluated by Nina Prager. Which he said was a speech that was a great leadership style mnemonic.
When asked about what leadership means to you, do you ever think about animals? Kartik made us think about characters from the Jungle Book and even Stuart Little as compelling leaders!
His key points delivered with a powerful rule of 3 were:
1. Leadership is pervasive – it comes to us all at some point in our lives.
2. Leadership is also transient – you are a steward for a finite period so be prepared to make your leadership memorable.
3. Leadership must evolve and improve.
And why does he think karma chameleon is a great mnemonic association for the fundamentals of good leadership?
1. You make your own karma based on how you accept leadership, perform, and improve.
2. You need to adapt to the situation like a chameleon to be effective.
3. And finally, in the words of the song…you come and go (nice one Kartik!) Leadership is transient, and you must make the most of your time while you are in situ.
4. And finally he asked; Next time you're facing a leadership situation will you think of Karma Chameleon and consider how you will be prepared, be adaptable, and evolve and improve to emerge a better leader?
Speech #2
Fabio Sanchez gave his second speech entitled 'Greatness and Fulfilment' from Presentation Mastery evaluated by Paul Bayliss.
He challenged us to know our values and have a vision.
To know our purpose and our why
To look at our life goals and determine what will make us the best version of ourselves.
Fabio also talked about the 3 Pillars:

Having a mindset for fulfilment
·  Self-love
·  Positivity
·  Having a growth mindset and not a fixed one
Creating habits that are needed to design the life you want
Fabio always shares a nugget or 2 of wisdom; He advised us to prioritise what's important and to make room for things that are meaningful.
The best evaluator for the night was Anna Xiao.
Bianca Brinkley gave us an impeccable timekeeping report and our General evaluator summed up and rounded off the evening with a detailed review of the events of the evening!
Andy Cowan Introduced us to his very thoughtful education-themed Table Topics with a beautiful introduction:  

"Orcas, elephants, and even hyenas have a matriarchal society. Our matriarch is Rebecca. Schools also often have a matriarchal structure! As a teacher, I enjoy listening to members' compelling ice breakers and hearing about your background, in particular school days."

His questions:
·  Strict teachers make the best teachers. Do you agree?
·  Do you agree that hooliganism is the result of a failing education system?
·  Tell us about a teacher that has had an impact on your life.
·  What do you think children should be learning in school
·  What was your nickname at school?
·  Tell us about a cherished memory from your school days.
·  If you were the education secretary, what changes would you make to our education system
·  How would our world change if self-love was taught in schools?

Indeed, a turbulence of table Topics to exercise the brain but Derek, Carl, Uzo, Bianca, Daniel, Carlos, Laura and Fabio all gave amazing responses to the questions posed. And our wonderful Anna conquered our longest Table Topic session by evaluating with such detail despite the limited time given.
 
The best table topic was won by our guest Daniel! Well done to him for stepping up on his 1st day!!
If you would  like to get updates and meeting reminders, join our Facebook group!
Want to join as a guest? Here is what to expect!